Kids Oral Health Partnership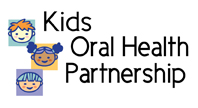 The Kids Oral Health Partnership provides training to professionals who provide care to children ages 0-3 on assessing and preventing oral disease and providing early intervention and referrals where needed. The training is designed for physicians, nurse practitioners, physician assistants, nurses, nutritionists, child care providers and others working with young children and their primary caregivers. The Partnership uses Maine Smiles Matters, a curriculum developed specifically for non-dental providers. Topics covered include prenatal care, tooth decay, early childhood caries, risk factors for tooth decay, prevention, what to do and how to do it, children with special health care needs and referring to a dental home.
The Kids Oral Health Partnership is a four year Targeted Oral Health Services grant from the Maternal and Child Bureau of the Health Resources and Services Administration of the US DHHS. Medical Care Development provides staff and management to the KOHP through a grant from the Oral Health Program, MaineCDC.
To find out more about the project or to receive free training, go to www.kidsoralhealthpartnership.org or contact bvaughan@mcd.org or call 207-622-7566 ext 216